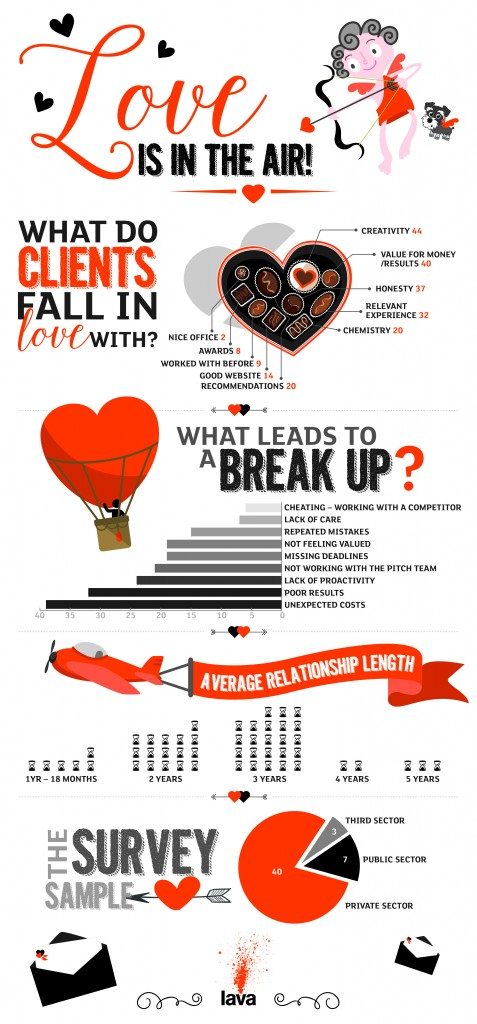 Love is certainly in the air amongst Lincolnshire businesses says one of the county's leading marketing agencies.
In the run up to Valentine's Day, Lincoln based Lava asked marketing managers and directors what they look for in their ideal marketing agency.
The results of the 50 interviews show that Lincolnshire businesses look for creativity, value for money, honesty, relevant previous experience and 'chemistry' between the agency team and their in-house team.
"We're not surprised with the top five answers to what people seeking to find their ideal agency are looking for," says David Wright, Lava's Business Development Manager, who undertook the research. "When we compared the findings to the working relationships we have with our clients, we found all five characteristics shone through. The survey was a bit of a tongue in cheek exercise if you like but I think the results speak volumes and explain why so many client –agency relationships break down."
As well as asking what marketing budget holders love to see in their future partners, David also investigated what the biggest turn offs are. Unexpected costs, poor results, lack of proactivity, not working with the pitch team after awarding the work and repeatedly missing deadlines were the top five sure fire ways for an agency to be dumped.
"As with the turn ons, the ways in which a client can fall out of love with their agency are not a complete shock," adds David. "We know that, just like romantic relationships between people, the client relationships thrive on keeping things fresh, regular communication, open and honest dialogue and if things do start to niggle, then getting things out in the open as quickly as possible, resolving the situation and moving on, are vital."
Integrated marketing agency, Lava was established in 2006 and offers design, digital, public relations and social media marketing support to clients across the private, public and third sector. Find out more about them at www.wearelava.co.uk or @WeAreLava.