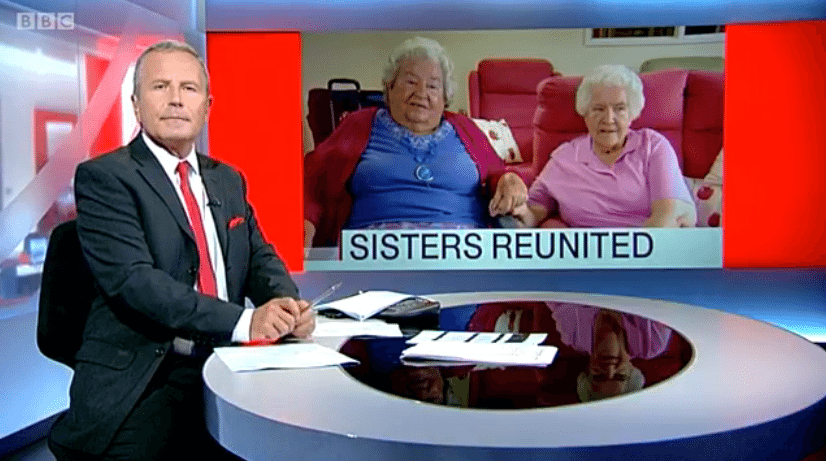 A touching true-life tale of long lost family provided us with a unique opportunity to strengthen the Orders of St John Care Trust's (OSJCT) reputation.
When OSJCT's communications manager informed us that one of the Trust's residents, 84-year old Kathleen Smith, was going to be reunited with her 80-year old sister after 72 years of being disconnected, our team instantly recognised how newsworthy it was and set out to engage as many regional outlets to cover it as possible.
Deciding the best reporters and editors to contact came first, followed by phone calls and emails to arrange locations and times. When the time came for media to arrive, our team was on-site to assist with media coordination throughout the day.
Amy Cole, a presenter from BBC Look North, visited the sisters at Beckside care home in North Hykeham, just hours after they were reunited. The resulting broadcast interview aired as a ten-minute feature during the evening news, seen by thousands of people in Lincolnshire and Yorkshire.
BBC Lincolnshire and The Lincolnshire Echo also sent reporters to the home to speak with the pair following their reunion – leading to a special afternoon drive-time report and a half-page picture lead.
Lincoln's leading online news website, The Lincolnite, also ran a piece about the sisters' reunion, which can be viewed here:
The story also ran on thisislincolnshire.co.co.uk, thisisnottingham.co.uk and in the Nottingham Evening Post.
Not only did the story provide key media outlets with a heartwarmingly positive piece, but it also strengthened the Trust's credibility, not only as a leading care home provider, but also as a supplier of newsworthy features that people want to hear about.